Study theology on-campus in Dingwall
content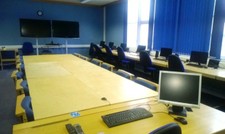 HTC is a small college which specialises in theology courses, but also acts as a base for students who wish to study other UHI networked programmes. The facilities are ideally suited to the training of theology students. Classes have a low student:lecturer ratio enabling more individual attention and an enhanced learning experience. The classrooms are well equipped with up-to-the-minute video-conferencing facilities. There is excellent IT and wireless provision throughout the campus with plenty of access to computers for students who do not bring their own to college.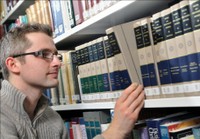 The library contains several special collections including the Rutherford House library, the William Temple collection from the Rylands library and Migne's Patrologia from the Fort Augustus Abbey library. A vast array of electronic resources adds to the traditional book provision. Wireless connectivity, individual study carrels and lots of natural light make the library a pleasant area in which to study.
A relaxing student common room is well equipped with fridge, microwave and other facilities for eating as well as comfortable seating areas.
The conference room is used as a chapel area for regular worship services. Students, staff and any visitors on campus are welcome to attend these services.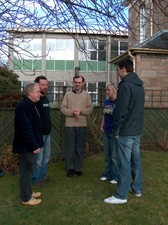 The college buildings are surrounded by their own beautiful garden grounds where picnics can be enjoyed on sunny days. On-site parking is available to the rear.
We do not have student residences but can provide helpful contact details for students to find suitable accommodation locally.
Dingwall has lots of open green spaces for sports and leisure activities. Victoria Park stadium (home to Ross County Football Club) is about five minutes walk from the college; another five minutes takes you to the beach. A leisure centre with swimming pool is also nearby. Other facilities normally expected in a busy town centre are also conveniently located: shops, cafes, doctor/dentist/optician, garage, police station, etc. The primary and secondary schools have an excellent reputation.
Outwith Dingwall itself, you don't need to travel far to be in some of the most stunning countryside of the Highlands but if it's urban facilities you desire Inverness is only 15 minutes drive away.