FAQs and facts
University AND evangelical! content
University AND evangelical!
HTC is an evangelical and non-denominational theological college in the Reformed tradition.
HTC is at the same time both an independent college run by its own Board AND one of thirteen colleges and research institutions which together make up the University of the Highlands and Islands. This enables HTC to retain its strongly evangelical, Reformed ethos within the university sector giving HTC a unique opportunity to impact on the training of ministers from a number of denominations.
HTC is a clear choice for anyone wishing to study theology in the rigorous academic environment of a university, whilst at the same time being confident that their lecturers are believing Christians who are committed to the spiritual, as well as academic, growth of their students.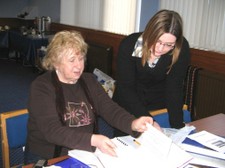 Student profile
Students of all ages and backgrounds study at HTC. Our youngest students are in their teens; our oldest was in his nineties! Students come from all backgrounds. Many would not consider themselves 'academic' but they come in answer to the calling that the Lord is placing on them to serve Him. These students often surprise themselves in how well they cope academically, even if they left school a long time ago with nothing more than their empty packed-lunch box! Others have already had a taste of university life and are graduates in other academic disciplines. Others are simply interested in theology and are gradually working their way through the course, a module at a time, fitting their studies in around family life, church life, job etc!
Class sizes vary depending on the module and the level. Numbers may be around 30 students per class at first-year level but only a handful per class at honours level.
Flexibility
Distance learning is more convenient for some students than having to attend campus. Most of our students are based at home rather than at our Dingwall campus. We've got students throughout the UK and some overseas too. Those students who are able to be based on-campus can enjoy the feel of 'university life' and friendships formed can last a lifetime.
Got a 9-5 job? The virtual learning environment will help you catch up with your studies at a time that suits you!
Fees & scholarships
Fees are set at a very competitive level and can be found amongst the details for the course you're interested in. Many students are entitled to funding which covers the cost of their fees. Scholarships are available – check whether you may be eligible. Our Finance Officer is on hand to give advice.
Ministry training
Graduates of HTC are in ministry in many denominations. Candidates training for Ministry of Word and Sacrament, Ordained Local Ministry (OLM) or Lay Readership should contact the denomination as well as the HTC Registry Officer for advice regarding academic requirements.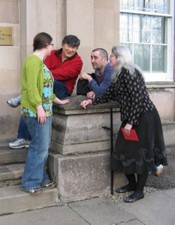 Is theology the only subject I can study at HTC?
As part of the UHI network HTC offers a range of network courses including joint honours degrees, for example History and Theology - see our course list for details. For students following the BA (Hons) Theological Studies programme, elective modules in non-theology subjects may be available.
Are there any non-Christians?
Almost all of HTC's theology students are Christians and for them an important aspect of their time of study is the deepening and strengthening of their personal faith in Christ. Many denominations are represented by the student and staff body, including the Presbyterian, Congregational, Baptist, Anglican and Charismatic churches.
Occasionally a student who is not a Christian comes to HTC to study theology just as an academic discipline. Many of the local students who use the HTC campus to access UHI networked courses (other than theology) are not Christians. There is no obligation on students to attend worship.