Our history
content
In early 1992 the newspapers carried a story about plans for a new university for the Highlands and Islands. This was not to be a traditional university, built on one or two sites close together. It was to be a collegiate university, made up of a number of colleges scattered the length and breadth of the Highlands and Islands. Most significant was the fact that each college would continue to be self-governing, with its own board of management, but at the same time would be linked together to form a university. This created an opportunity which had not existed before; namely, the possibility of a new theological college which would be self-governing but, at the same time, part of a university – the best of both worlds!
Many Christian businessmen and ministers were excited by this news and a small group got together to explore the possibilities of setting up a new theological college as part of the proposed university. Over the next two years the complex process of turning the idea into a reality was carried forward, with the help and involvement of ministers, businessmen, and representatives from the 'University of the Highlands and Islands Project'.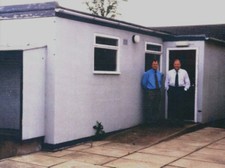 After a generous offer of accommodation from Dr Robert Chalmers, Principal of Moray College, the final decision to go ahead with the project was taken on Friday 15th April 1994. Rev Dr Andrew McGowan and Rev Hector Morrison were appointed as the first two members of staff of Highland Theological Institute (HTI) and on 1st August 1994 they took up their posts in a small 'hut' in the grounds of Moray College, Elgin.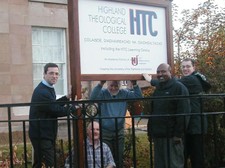 HTI steadily grew and expanded. In early 1999, through a combination of opportunities and generous provision, HTI was able to acquire its own premises in the town of Dingwall. The name was changed to Highland Theological College (HTC) and, by the start of the new academic year, HTC had doubled its staff, moved into its new home, and was pleased to welcome another increase in student numbers.
Students and staff are attracted from many countries, not just the UK. Student numbers continue to grow year on year. New modules are being developed and added to the curriculum. Research is published in well- respected academic journals. HTC is increasingly being recognised in academic and theological circles as a place of excellence.
Through God's gracious provision, during 2014 HTC celebrated its 20th anniversary with a programme of special events.
In 2015 we opened new classrooms in Glasgow to offer students in the Central Belt a campus environment in which to study. Classrooms are fully equipped with video-conference facilities and a library area. Find out more about HTC-Glasgow.