Dr Jamie Grant
content
Vice Principal (Academic), PhD Co-ordinator and Lecturer specialising in Biblical Studies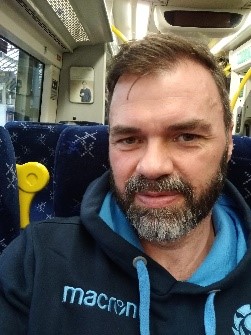 Dr Jamie Grant is Vice-Principal (Academic) and Lecturer in Biblical Studies at Highland Theological College UHI. His main teaching responsibilities are in the Old Testament poetic texts, the biblical languages and hermeneutics. Jamie has been working at HTC since 2002. His first degree was in law at Dundee (1990) and Jamie then worked for the International Fellowship of Evangelical Students (IFES) in Poland for several years. He went on to complete an MA (Biblical Studies) at Reformed Theological Seminary (1999) and PhD from the University of Gloucestershire (2002). Jamie's PhD research adopted the canonical approach to the Psalter and examined kingship and torah themes in the Psalms and Deuteronomy.
His publications include:
Jamie A. Grant and Dennis Tucker, Psalms, Volume 2, NIVAC, Grand Rapids, Zondervan 2018.
'"What is Man?" A Wisdom Anthropology', in Jason Maston and Benjamin E. Reynolds (eds.), Anthropology and New Testament Theology, London, T&T Clark 2018, pp. 5-25.
'"When the Friendship of God Was Upon My Tent": Covenant as Essential Background to Lament in the Wisdom Literature', in Richard I. Bautch and Gary N. Knoppers (eds.), Covenant in the Persian Period: From Genesis to Chronicles, Winona Lake, IN, Eisenbrauns 2015, pp. 323-39.
'Creation and Kingship: Environment and Witness in the Yahweh Mālāk Psalms', in Jonathan Moo and Robin Routledge (eds.), As Long as Earth Endures: The Bible Creation and the Environment, Nottingham, Apollos 2014, pp. 92-106.
'A Biblical Theology of Nationhood: Some Light on the Scottish Independence Question', SBET 31:2 (Autumn 2013), pp. 115-26.
'The Hermeneutics of Humanity: Reflections on the Human Origin of the Laments', in Jamie A. Grant, Alison Lo and Gordon J. Wenham (eds), A God of Faithfulness: Essays in Honour of J. Gordon McConville on His 60th Birthday, LHBOTS 538, London, T&T Clark 2011, pp. 182-202.
'Determining the Indeterminate: Issues in Interpreting the Psalms', Southeastern Theological Review 1:1 (Winter 2010), pp. 3-14.
'Singing the Cover Versions: Psalms, Reinterpretation and Biblical Theology in Acts 1–4', SBET 25:1 (Spring 2007), pp. 27-49.
'"Szczęśliwy, kto": Czesław Miłosz's Translation of the Psalms', CBQ 69:3
The King as Exemplar: The Function of Deuteronomy's Kingship Law in the Shaping of the Book of Psalms, AB 17, Atlanta/ Leiden, SBL/ Brill 2004.
Jamie has co-supervised seven PhD students to completion, looking at topics from the Song of Songs and the Psalms to missional ethics and black theology. He is currently supervising five PhD students, who are examining the Psalms, Exodus, Kings, Polanyi and the Christian education of young people. He is open to supervising PhD research in the poetic texts of the Old Testament (including Hebrew linguistics/poetics), missional themes from a biblical perspective and the hermeneutical questions, especially regarding the interface between Scripture and the contemporary world.
"Jamie's lectures on the Biblical Theology of Mission were inspiring and engaging for all students. He delivered it with such passion, freshness, and insight. It was creatively structured, with a good balance of lecturing and seminars. He always asked good questions to open up discussion and really got us thinking things through in greater depth. His module stands out as the best of my second year at HTC."

(Nomination by student for UHI Most Engaging Video Conference Tutor award)